Thursday, December 23rd, 2021
We Will be Closing early at 3pm Today, Thurs. 12/23/21, but
we will be Open tomorrow, Fri. 12/24, from 11am to 6pm.
Friday, December 17th, 2021
We apologize for any inconvenience but we will be temporarily CLOSED for the Holiday week of Christmas/New Years, 12/25/2021 thru 1/3/2022…we will be back to our regular schedule on Tuesday, 1/4/2022.
MAHALO for ALL your continued support, and patience!! 
…MELE KALIKIMAKA!! and HAPPY HOLIDAYS TO EVERYONE!!! 
ALOHA!!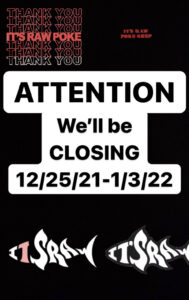 Sat., August 28th, 2021
Happy early Birthday to us….We hope you all can make our 5 Year Anniversary Party!!! Next month on Saturday, September 18th, 2021 we will be having a party at Winston's in Ocean Beach, starts at 5pm to 9pm. LIVE Hip-hop performances and DJ, Ono grindz and Good Positive Vibes!! Come join da fun and celebrate with us…
Special Note:  We will be raffling some prizes also thru It's Raw Poke Shop's Instagram social media page and also for ALL patrons that have turned in their Reward Cards when they received their free poke plate, we compiled everyone's email addresses and we will pull some winners from there as well!! Good Luck!!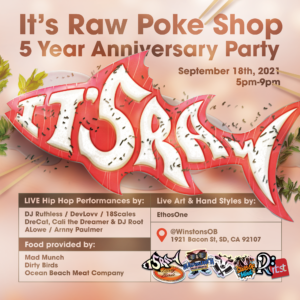 Summer Hours:
Tuesday -Sundays  11am -6pm
Closed on Mondays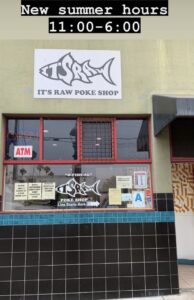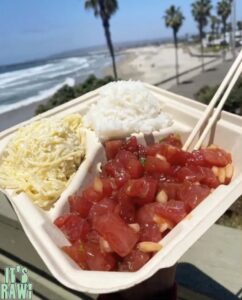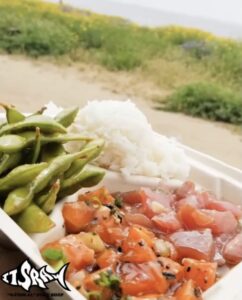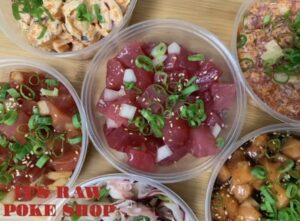 Wednesday, May 12th, 2021
BACK IN ACTION !!
MAHALO FOR YOUR PATIENCE .
4991 Newport Avenue STE A
Ocean beach, San Diego, CA 92107 .
Poke pictured : AHI LIMU .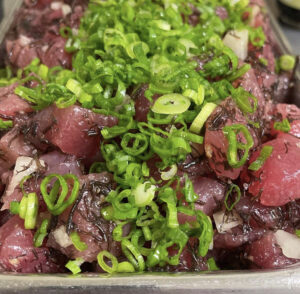 Saturday, March 27, 2021
Support Local Business
We use a third-party delivery service called TAKEIN…
You can Order your Poke NOW online and get it delivered to you!
Thanks to everyone who continues to support us!!! Much MAHALO!!

TAKE-IN Link: https://view.takein.com/producer/itsrawpokeshop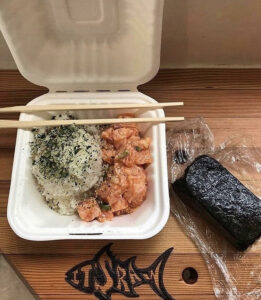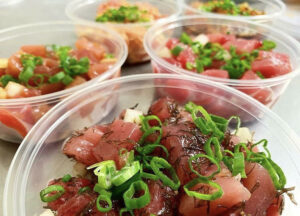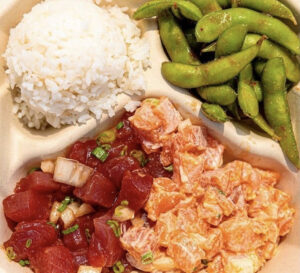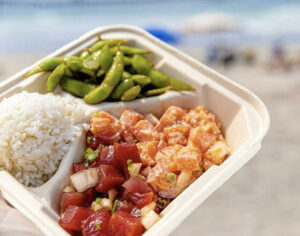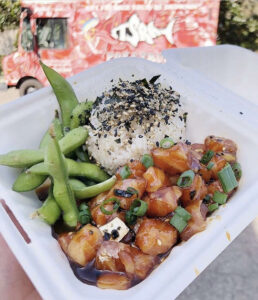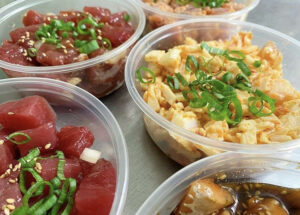 Sunday, October 25th, 2020
World Premiere of @SDstateofmind w/host @kahlee310 & special guests @caliburrito (host of @jamn957 morning show) & super producer, @ralphquasar as they experience the fresh fish 🎣 & aloha 🤙🏼 of San Diego's favorite poke spot @itsrawpokeshop .
📺Visit SDstateofmind.com to watch .
hang out with the SD community
Click da links below:
https://www.twitch.tv/barsweekly
or
https://www.youtube.com/watch?v=Vgl3dIProDk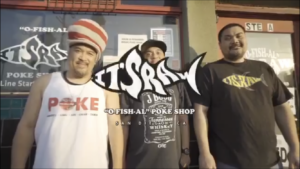 Daily Tune… press Play
BUNNY WAILER – Rise & Shine (+dub)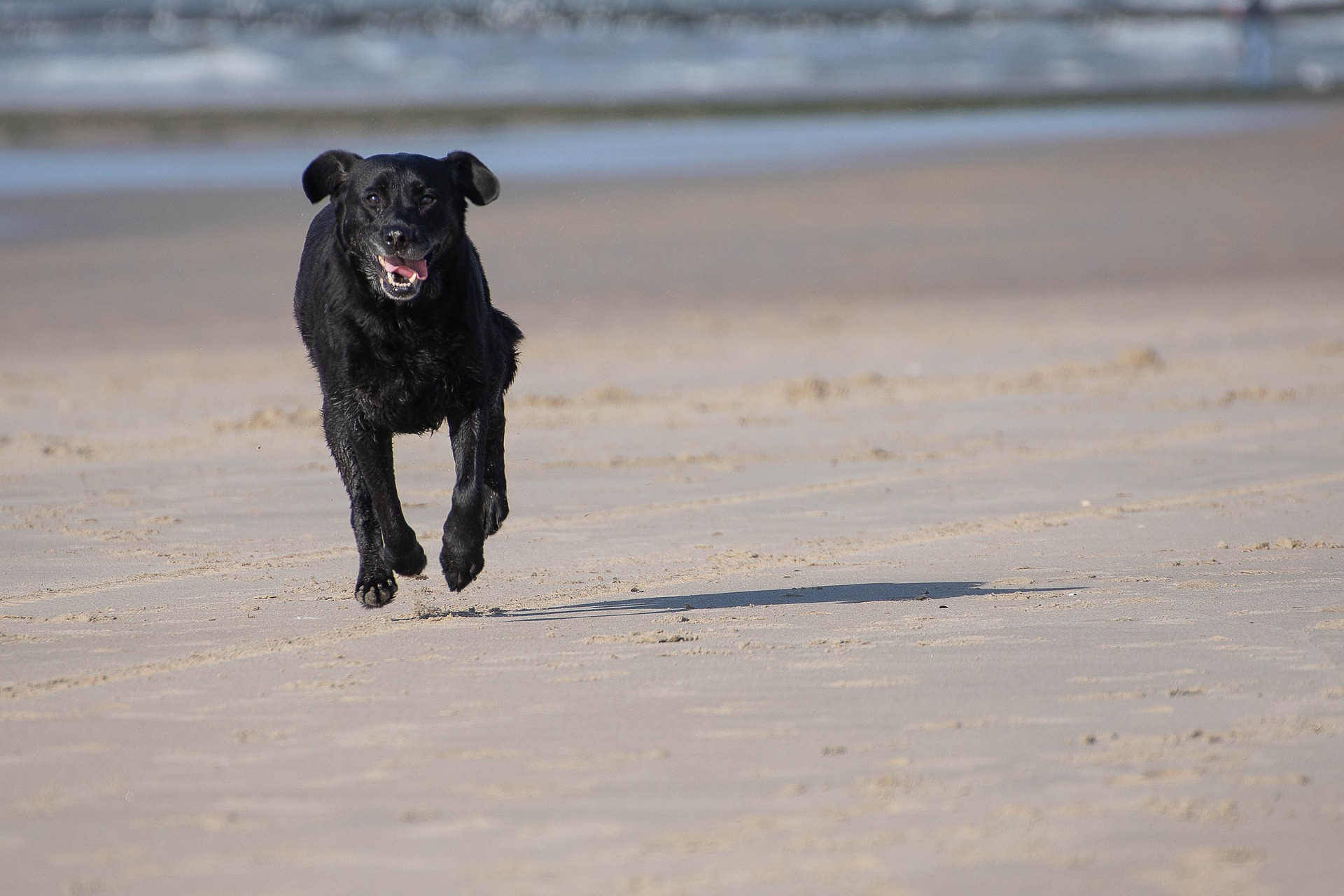 Date nights can be hard if you don't have a sitter for your pup. Luckily, Ocean Beach offers few poochy pleasant spots. Here is our list of '8 Places to Eat and Drink with Your Dog in Ocean Beach.' 1. Helms Brewing: Bring your dog to this nautically themed brewery after a loop around the […]
It's Raw Poke Shop
It's Raw Poke Shop is a family owned and operated poke shop specializing in serving that local island style kine grinds within the county of San Diego, California. It's that same authentic Hawaiian taste, made with that original ALOHA spirit on da mainland that makes all the difference. Come check us out sometime and see for yourself! Don't take our word for it.
Phone:
(619) 564-8421
Order Now!
Hours:
11am to 5pm Tuesday – Sunday, Closed Monday
Address:
4991 Newport Ave A
San Diego, CA 92107
Prime Location
One of the many things that make us at It's Raw Poke Shop unique is that we are located just a few steps from the beach. Not much can beat picking up 'ono grinds' and heading down to the shore.
Poke Menu
**Prices Subject to Change Without Notice**
(items subject to availability)
Shoyu Ahi
Kimchi Ahi
Spicy Ahi
Wasabi Ahi
Furikake Salmon
Spicy Salmon
Sesame Tako
Tomato Tako
Kimchi Shrimp
Imitation Crab
Chili Garlic Edamame(soybeans)
Ask us about our hot plate specials!
Plate Lunch
Our Hawaiian plates are served daily.
1. Kalua Pig – $15
Kalua Pig, Chicken Longrice, *Haupiʻa, Rice
2. Hawaiian Combo – $20
Kalua Pig, *Lau Lau, Chicken Longrice, *Haupiʻa, Rice
3. Kalua Pig and Poke – $22
Kalua Pig, Poke (2 choices), Rice
4. Chicken Longrice $12
Chicken Longrice,*Haupia, Rice
5. Poke – $16
Poke (2 choices), Rice
*subject to availability.
Poke Catering
Any inquiries Please contact our poke shop # 1-619-564-8421  or email us at itsrawpokeshop@gmail.com
Mira Mesa Farmers Market
Tuesdays, 2:30pm- 6pm
Mira Mesa High School
10510 Reagan Rd, San Diego, CA 92126